8:33 am
[hofer]

new community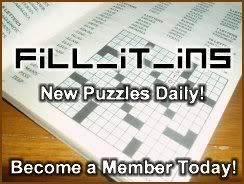 fill_it_ins
is where the fun is at!
6:47 pm
[deguspice]

Have you noticed that some crossword puzzles will frequently resort to the same three or four letter words to fill up spaces in a puzzle?
How many of the following clues do you recognize?


Sash

Culture medium

Lotion ingredient

Whale

Exile island

Baseball stat

Vietnam holiday

Beer

Spirit

Great lake

Shoe size

New Haven student

Perry author

Sword

2:50 pm
[deguspice]

Do it online
If you have Java installed on your computer, you can do crossword puzzles online at
http://www.uclick.com/client/bos/fcx/
Two things to note:


In Regular mode, it will tell you if a letter is wrong.

The space bar switches between Across and Down.

4:14 pm
[deguspice]

Welcome
This community is for people in the Boston area who (attempt to) solve word puzzles in the newspapers.